Tibo Products.
Gundrilling machines, cross table machines and BTA deep hole drilling machines made from modular system components.
Deep hole drilling is defined as "a metal-cutting" machining process for making boreholes in which the ratio of drilling depth to drilling diameter is normally 10:1 or more". A method that requires a lot of technical know-how, high-quality tools and maximum precision.

As one of the world's leading manufacturers of deep hole drilling machines, Tibo supplies high-precision solutions that have been proven many times over for drilling tasks involving diameters of 2 mm to 400 mm and drilling depths up to 12,000 mm, realised in a modular machine concept consisting of high-quality, perfectly harmonised system components.

Depending on the diameter and depth, this involves using various methods that Tibo has continuously perfected in ongoing development work: Gundrilling and BTA deep hole drilling. Both methods allow highly precise and fast deep hole drilling in a wide variety of materials from aluminium and stainless steel to super-alloys in aerospace engineering.



The Tibo modular system.
Modular and flexible.
The Tibo modular system is as simple as it is ingenious, and offers almost limitless configuration possibilities – from the universal standard machine to part-specific special solutions. Individually adapted to your deep hole drilling requirements, this means that we can always offer you an optimum machine configuration that does exactly what's demanded of it with maximum efficiency.
Continuous further improvements to our product range and the use of proven components result in much simpler handling, less complex setting-up and extended machining possibilities.


An overview of the Tibo modular system
1st Module: Machine bed
The solid basis of every Tibo deep hole drilling machine is our machine bed, which is available in many standard sizes including linear guides and various base plates onto which the other drilling units are mounted. This ensures extreme precision down to the 1/1000 mm.
2nd Module: Drill spindle
The drill spindles are mounted onto the linear guides and base plates – between one and six spindles that are fitted with the drive to match depending on the drilling task. Spindle drives with switchable gears are also available for large machines.
3rd Module: Tailstock or second drill spindle
Fixed or counter-rotating tailstocks can be fitted, depending on the customer's requirements and the task. Alternatively, a second spindle component can also be configured to drill simultaneously from two sides with up to twelve spindles in total.
4th Module: Drill bush holder carriage (ELB) or coolant pressure head BOZA (BTA)
The optionally movable drill bush carriage or the coolant pressure head (BOZA) is attached, depending on the drilling method. The drill bush holder with a clamping cone used in gundrilling (ELB) guides and centres the drill and takes up the coolant and drilling chips that are removed from the bore hole. The coolant pressure head (BOZA) is used in the BTA method. It guides the drill tube and at the same time presses the deep drilling oil with high pressure along the drill to the drill's tip. In the process, the Tibo modular system also allows a combination of gundrilling and BTA methods on one machine.
5th Module: Chip removal and coolant system
The drilling chips are fed to the chip discharge via the chip conveyor (optionally: chip basket), while the drilling oil is first filtered, cooled if necessary and finally fed back into the coolant oil tank. A combination with a centrifuge is also optionally available.
6th Module: Steady rests and vibration dampers
The required number of tool steady rests (gundrilling method), vibration dampers (BTA method) and workpiece steady rests (all methods) is used depending on the length of the workpiece. Here, the modular Tibo system also allows quick and simple changing of the steady rests – giving you an inestimable advantage over the competition when frequently changing machining tasks are involved.
7th Module: Control
Tibo deep hole drilling machines are equipped with state-of-the-art control technology and intuitive touch panels, drilling data memories, programmable chip breakage, a failure position that can be approached in rapid traverse and remote access possibilities. The movable control panel gives you unrestricted access to all machine components.
8th Module: Safety doors / light barriers
Tibo deep hole drilling machines conform to the European Machinery Directive 2006/42/EC and have either wide-opening safety doors or light barriers, depending on the customer's wishes.
Gundrilling machines (ELB method)
Solid drilling to Ø 40 mm 


Drilling depths to 4,500 mm*
Tibo gundrilling machines are ideally suited to deep hole drilling tasks with smaller drilling diameters of 2 mm to 40 mm.
A characteristic of the gundrilling method is that the coolant is introduced through channels inside the tool shaft. It is removed together with the drilling chips via a V-shaped slot (beading) along the tool. Our unique machine concept with high-quality, harmonised system components enables deep hole drilling operations to be performed down to a drilling depth of 4,500 mm or more – with maximum precision and at high speed.


The modular system enables every gundrilling machine to be individually adapted to the user's needs: At the same time, systems with between one and six spindles can be realised as standard. Additionally, assembly as a TWIN UNIT is possible for machining particularly large quantities, involving drilling with up to twelve spindles simultaneously from two sides. There is also optional provision for shutting down individual drilling spindles, if for example different batch sizes are often machined.
Every deep hole drilling machine can also be configured with automatic loading and unloading, making it ideal for economical series production. The modular design and extensive optional accessories allow additional machining methods such as reaming for example. Proven components and state-of-the-art tools guarantee highly precise drilling results.
BTA deep hole drilling machines
Solid drilling to Ø 250 mm

Counter-boring to Ø 400 mm 

Drill depths to 12,000 mm*
BTA deep hole drilling machines from Tibo provide the optimum method for larger drill diameters of 18 mm to 250 mm solid drilling (up to 400 mm counter-boring) and drill depths of up to 12,000 mm.
With the BTA method, the coolant is introduced and removed and the chips are transported away in exactly the opposite way to the gundrilling method: Thanks to the larger diameter of the BTA drill, here it is possible to reliably and continuously remove the chips through the tool's interior. The coolant on the other hand is introduced from the outside and under pressure through the annular gap between the bore hole and the drill by means of a coolant pressure head (BOZA).


A variant of this is the ejector drilling method in which the deep drilling oil is supplied through an annular chamber between the drill tube and an internal tube. The cooling lubricant exits at the side of the drilling head, flows around it and flows back with the chips in the internal tube. At the same time, some of the cooling lubricant is supplied into the internal tube via a ring nozzle. The resulting vacuum at the chip mouth allows the return flow (ejector effect).
Tibo BTA deep hole drilling machines are also available as single-spindle or multi-spindle versions. By selecting different gearboxes and depending on the drilling task, different drive variants can be realized, thus always achieve optimum cutting performance.
The modular design and extensive optional accessories allow additional machining methods such as skiving and roller burnishing, pull boring und bottle boring. Proven components and state-of-the-art tools guarantee highly precise drilling results.


*Drilling depths in excess of 12,000 mm are possible as a special configuration at the customer's request

Cross table machine
The New Performance Class in Deep Hole Drilling
Deep drilling, face milling and tapping with one machine




Perfect solution for tool and mold making, prototyping and fixture construction




Impressive performance in terms of precision, dynamics and capacity




Outstanding cost-benefit ratio
Modular expandability: tailstock or other cachine components.


Rifling machines
The manufacture of a precision rifle barrel requires continuous process reliability, starting with the right material selection and via the processing of unmachined parts via precision deep hole drilling, up to the production of the rifling in the barrel that is essential for proper marksmanship. The precise deep hole drilling is usually produced with Tibo single-fluted deep hole drilling machines or combined deep hole drilling/reaming machines in single- and multi-spindle models, and is the basis for good marksmanship down the line. Next, the highly precise rifling in the deep-hole-drilled and/or reamed barrel is drawn on our DR series rifling machine. Through the rifling in the barrel, the projectile is offset in rotation around its longitudinal axis on its path from the chamber to the muzzle. This stabilises the projectile in its trajectory from the moment it exits the muzzle. With Tibo's DR-series rifling machines, the touch panel control can be operated very easily and intuitively, and different rifling gradients and lengths can easily be programmed and stored in the data memory. The DR-series is available in diameter ranges up to Ø40 mm and for different barrel lengths up to 4,000 mm and for pulling forces up to 200,000 N.
The possible procedures include the cold-reshaping button rifling with so-called drawing nut, or machining procedures such as single-edged cutting of the rifling with a hook knife or multi-edged cutting of the rifling with a crown knife.



Control concept.
All of our deep hole drilling machines have intuitive control technology for maximum process reliability and control. Via the touch panel, the machine operator obtains all the important process parameters at a glance and can, if necessary, also perform optimisations during ongoing operation.
Depending on the drilling task, the chip breakage is individually programmable and thereby guarantees maximum process reliability, low tool wear and maximum efficiency. If a fault occurs, the system remembers the drill's current position and can return to it again precisely and quickly after the fault is remedied.
Depending on the model, the systems also have a high-performance drilling data memory in which repeat applications can be stored and recalled at your fingertips. This means the machine is set up and ready for the new drilling task within a very short time. Temporarily shutting down individual spindles is also possible as an option.
Another important advantage of the control concepts implemented by Tibo is its remote capability: Not only does this allow the machine data to be saved and edited on a PC, it also permits genuine remote access for maintenance purposes for example. If the customer wishes and if necessary, Tibo staff can also access the machine to check the control process parameters and optimise them if required.

Product videos.
See how our products work.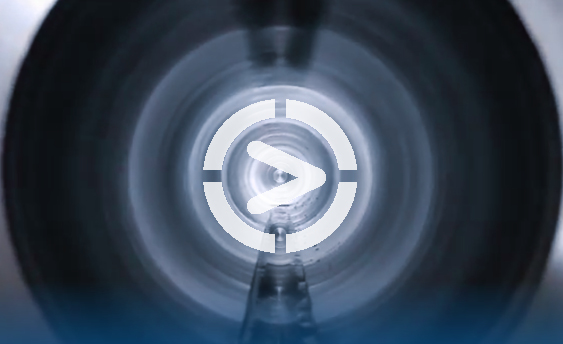 Product video.
Tibo BTA deep hole drilling machine B250-8000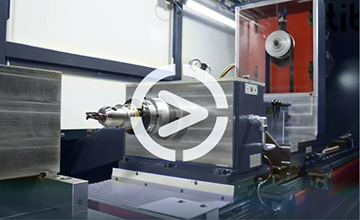 Product video.
Tibo Cross Table Machine KTE40-1000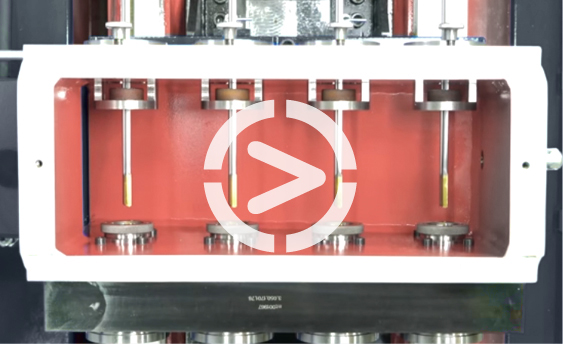 Product video.
Tibo-Deep hole drilling machine – How to produce a deep hole with a gun drill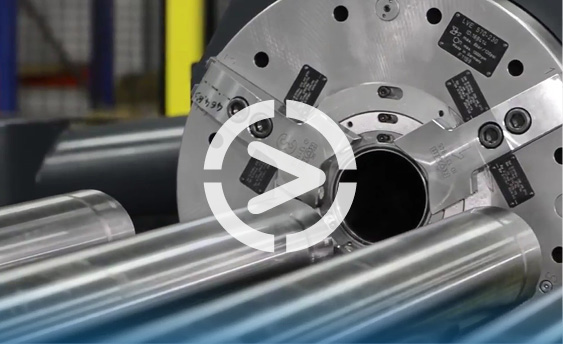 Produktvideo.
Tibo BTA deep hole drilling B250-2000CSR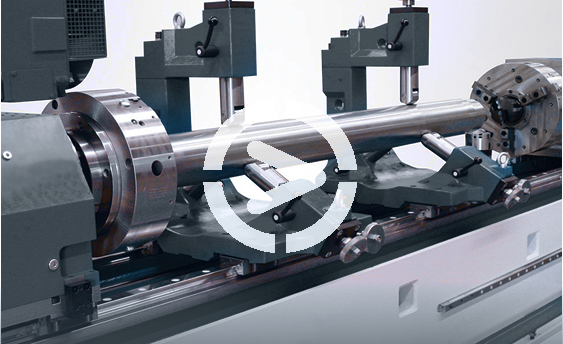 Product video.
Tibo BTA deep hole drilling machine B160-4000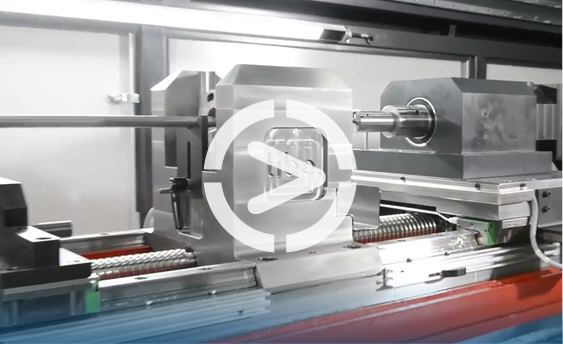 Product video.
Tibo DR50-1000
Accessories and spare parts.
High process reliability using original parts
The modular design of our deep hole drilling machines guarantees the long-term compatibility and availability of all accessory and spare parts. An extensive stock and logistics programme guarantees quick delivery.
Spindle blocks
Drilling units
Drills
Drill bushes
Drill bush holders
Clamping cones
Coolant pressure heads
Deep drilling oil
etc.